Ian Tree
10 May 2012 12:24:01
Domino eXplorer Support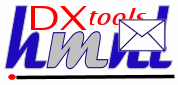 The Domino eXplorer, DXCommon and DXTools software is provided on an "AS IS" basis. There is no formal subscription based support offering with these packages.
The DX Development team will publish new releases of the software distributions as they become available to internal project teams.
However the following options are available:-
1. Informal Developer Contacts
The DX Development team is always happy to hear from users. Problem reports, questions on use and enhancement or extension requests can be submitted via e-Mail to The
DX Development Team
(DXDevs@hmnl.nl). Problem reports submitted through this channel will be acknowledged but will only be scheduled for investigation and resolution if they are well documented and reproducible and have a significant impact. There is no commitment on the timeliness of any investigation or resolution.
2. Embedded Project Support
Members of the DX Development team and internal project developers may be engaged to participate in critical projects to provide embedded design and/or development skills including providing on-site or remote intensive support for all DX related aspects of the project. Developers working on secondment as a part of a customer project do have access to the full set of support resources that are available to internal project teams. Contact the
DX Projects Team
(DXRFI@hmnl.nl) with your requirements.
Details of other DX related Service Offerings from HMNL are available
here
LINKS
| | | | |
| --- | --- | --- | --- |
| Information | Source Packages | Documentation | Articles |
| | | | |