Ian Tree
09 May 2012 15:57:50
DXTools - Using RDBCreate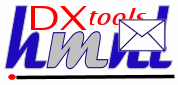 Documentation for Version 2.1
RDBCreate is a command processor that is used to create DXTools databases from a source "Virtual Template" that is available on the internet or a local source. The utility can also be used to update the design of an existing database.
Virtual Templates provide a quick and easy mechanism for distributing the designs of Notes databases without the need for replicating or copying a physical template before creating new databases from the template. Because a Virtual Template can be used from almost anywhere it is possible to have a single point of source for a design, this ensures that new databases always use the latest available design.
The RDBCreate application is constructed as a Domino Command Line Processor, it can be run from a command window on a workstation or run directly on a server.
RDBCreate is a C++ application constructed on the DXCommon application kernel supporting Domino version from 6.0 through 8.5 on both Widows & Linux server platforms.
Downloads
Click (once) on the icon of the file you want to download and select "Save" when asked what you want to do with the file.
Files
| | | | |
| --- | --- | --- | --- |
| File | File Name | Contents/Usage | File Size |
| RDBCreate.doc | DXTOOLS-USING-RDBCREATE-2-1.doc | DXTools - Using RDBCreate 2.1 - Word for Windows 97-2003 | 451 Kb |
| RDBCreate.pdf | DXTOOLS-USING-RDBCREATE-2-1.pdf | DXTools - Using RDBCreate 2.1 - PDF | 352 Kb |
| RDBCreate.odt | DXTOOLS-USING-RDBCREATE-2-1.odt | DXTools - Using RDBCreate 2.1 - Open Document Text | 335 Kb |
| RDBCreate.xps | DXTOOLS-USING-RDBCREATE-2-1.xps | DXTools - Using RDBCreate 2.1 - XPS | 558 Kb |
LINKS
| | | | |
| --- | --- | --- | --- |
| Information | Source Packages | Documentation | Articles |
| | | | |