Ian Tree
09 May 2012 16:11:45
The DXTools SPZap Application Package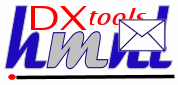 Distributions for Version 1.3.1
SPZap (pronounced "super zap") is a command line file patching utility. The name and some of the commands are an homage to the IBM AMASPZAP (later alias IMASPZAP) utility that was introduced with the MVS operating system. The utility reads commands from the standard input stream (STDIN) and writes the result of the commands to the standard output stream (STDOUT). The utility is designed to operate on any file and assumes that the file is structured as a number of variable sized pages.
The utility has commands to load pages of the file inspect, verify, update and search those pages.
The utility continues to read commands from the input stream until EOF (Ctrl-T on Windows Ctrl-D on Linux) is encountered or a soft End-Of-File, character sequence "/*" is read. If input is redirected from a file then EOF on that file terminates the application.
Downloads
Click (once) on the icon of the file you want to download and select "Save" when asked what you want to do with the file.
Source Packages
| | | | |
| --- | --- | --- | --- |
| File | File Name | Contents/Usage | File Size |
| Windows: | | | |
| SPZap | SPZAP-10301-11.zip | DXTools SPZap Source Package Version: 1.3.1 for Windows | 21 Kb |
| Linux: | | | |
| SPZap | SPZAP-10301-11.tar.gz | DXTools SPZap Source Package Version: 1.3.1 for Linux | 20 Kb |
Executable Files
The executable files below are provided as a convenience, the distribution is intended to be at the source level with users building their own executable files.
| | | | |
| --- | --- | --- | --- |
| File | File Name | Contents/Usage | File Size |
| Windows: | | | |
| SPZap.exe | SPZap.exe | DXTools SPZap Executable Version: 1.3.1 for Windows | 128 Kb |
| SPZap.pdb | SPZap.pdb | DXTools SPZap Program Debug Database Version: 1.3.1 for Windows | 1,211 Kb |
| Linux: | | | |
| SPZap | SPZap | DXTools SPZap Executable Version: 1.3.1 for Linux | 36 Kb |
LINKS
| | | | |
| --- | --- | --- | --- |
| Information | Source Packages | Documentation | Articles |
| | | | |