Ian Tree
09 May 2012 16:14:07
DXTools - Using DXTell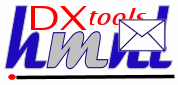 Documentation for Version 1.0
DXTell is a command processor that is used to allow Domino Server Add-Ins to be tested on a workstation by providing the ability to pass commands to the Add-Ins Message Queue (MQ).
Little Known Fact #247
All of the Server API calls and functionality that is required to support a Server Add-In task is also available in the Notes Workstation code.
The DXTell application is constructed as a Domino Command Line Processor, it can be run from a command window on a workstation.
DXTell is a C++ application constructed on the DXCommon application kernel supporting Domino version from 6.0 through 8.5 on both Widows Notes Workstations.
Downloads
Click (once) on the icon of the file you want to download and select "Save" when asked what you want to do with the file.
Files
| | | | |
| --- | --- | --- | --- |
| File | File Name | Contents/Usage | File Size |
| DXTEll.doc | DXTOOLS-USING-DXTELL-1-0.doc | DXTools - Using DXTELL 1.0 - Word for Windows 97-2003 | 422 Kb |
| DXTEll.pdf | DXTOOLS-USING-DXTELL-1-0.pdf | DXTools - Using DXTELL 1.0 - PDF | 267 Kb |
| DXTell.odt | DXTOOLS-USING-DXTELL-1-0.odt | DXTools - Using DXTELL 1.0 - Open Document Text | 338 Kb |
| DXTell.xps | DXTOOLS-USING-DXTELL-1-0.xps | DXTools - Using DXTELL 1.0 - XPS | 461 Kb |
LINKS
| | | | |
| --- | --- | --- | --- |
| Information | Source Packages | Documentation | Articles |
| | | | |